Prostate matters is a not for profit organisation committed to providing free information about prostate issues from leading Clinical Authorities
Future screening – the PROSTOGRAM trial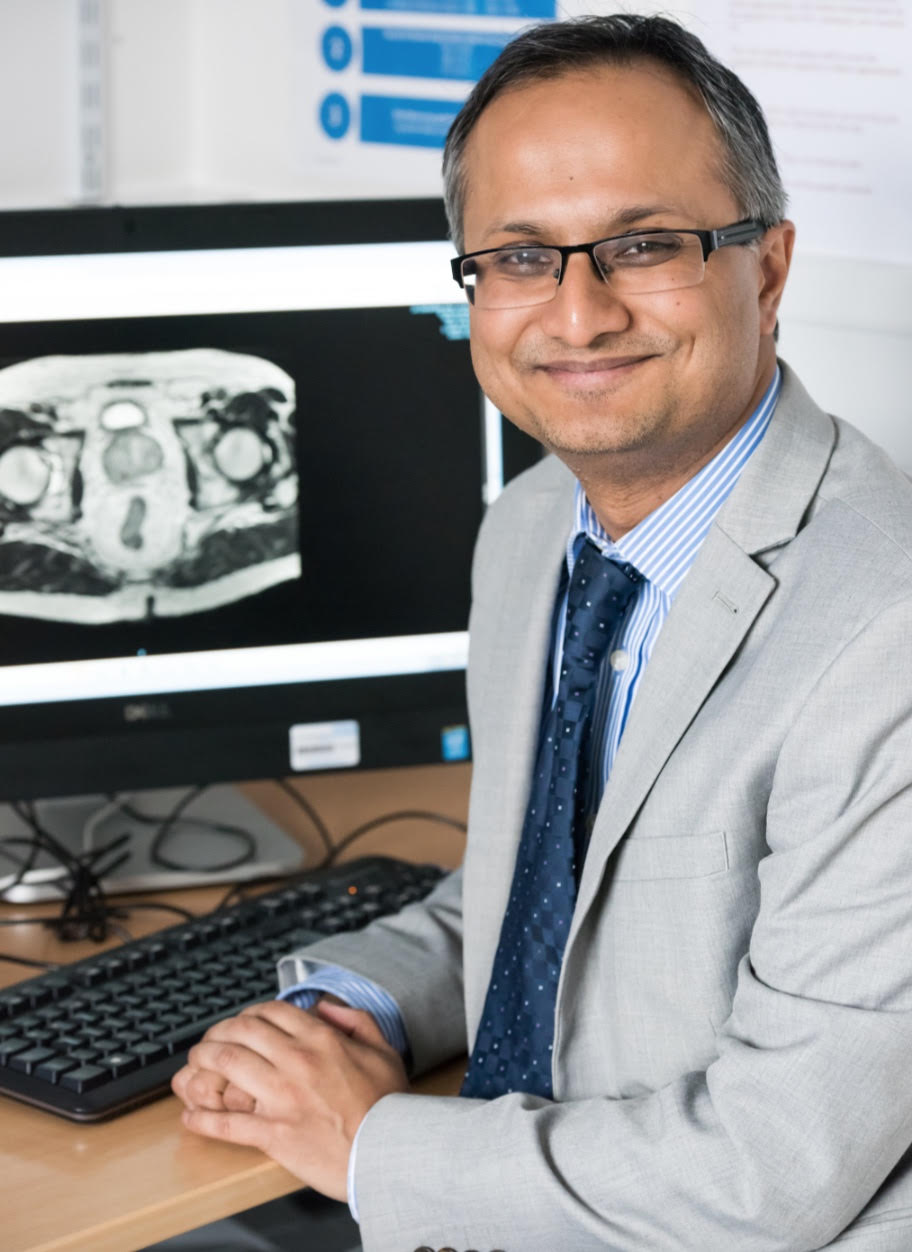 Overview by Professor Hashim Ahmed
Chair in Urology and Consultant Urological Surgeon
Imperial College NHS Trust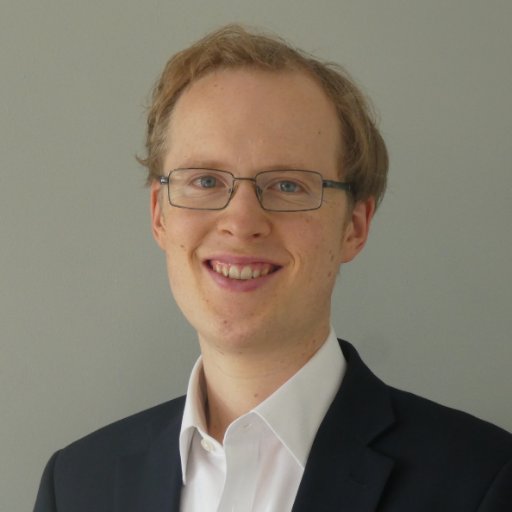 Dr David Eldred Evans
Royal College of Surgeons Research Fellow and academic Urologist

Future screening – the PROSTOGRAM
Each year across the UK, nearly 50,000 men will be diagnosed with prostate cancer and over 11,000 will die of the disease. It is the second biggest cancer killer of men, however it shouldn't be. It's treatable and curable, especially if diagnosed early. Research into early diagnosis of prostate cancer is vital if more men are to survive the disease.
All women over 50 years are offered a scan called a mammogram that can spot breast cancers when they are too small to see or feel. Our vision is for all men to have access to a similar scan called a PROSTAGRAM.
Why do we need a PROSTAGRAM?
Prostate cancer deaths have overtaken those from breast cancer For the first time, the number of men dying from prostate cancer have surpassed breast cancer. There are more than 12,000 men dying from prostate cancer in the UK each year and 1 in 24 men will die from the disease. Screening can be used to ensure that prostate cancer is caught before it's too late.
Other common cancers have benefited from national screening programmes. For example, a mammogram is a good method used to screen women for breast cancer and CT scans are being offered to screen for lung cancer. The risk of dying from prostate cancer is higher than breast and bowel cancer which have established screening programmes.
Prostate cancer screening saves lives
Prostate cancer has been described as a silent disease as it does not often cause any symptoms until it has started to grow and spread outside the prostate.  If prostate cancer is detected too late then the chance of surviving 10 years falls from 98% to 22%. Regular prostate cancer screening has been shown to reduce the risk of dying from prostate cancer by 20%. It is estimated that a screening programme could save the lives of 70,000 men each year worldwide.
Alternative tests are too unreliable
"PSA is still a poor test for prostate cancer and a more specific and sensitive test is needed"
(UK National Screening Recommendation on Prostate Cancer Screening, 2016)2
A good screening test finds the disease at an early stage when it is easier to treat and with a greater chance of survival. There is a blood test called PSA but it has not been recommended for prostate cancer screening. PSA has been previously rejected by the national screening committee because it can miss dangerous tumours and tends to find slower growing low-risk cancer which don't cause harm or shorten life. This overdiagnosis leads to men being subjected to the harm of a cancer diagnosis and side effects from treatment without any survival benefit. We need a better test that is more accurate.
Alternative tests are invasive
PSA does not give any information to doctors about the specific location of cancer inside the prostate. PSA is often completed with an internal rectal examination which can help identify an area of the prostate with cancer. However, some men dread this invasive examination and find it embarrassing. It is known to discourage men from going to the doctor for a prostate check even if there are concerns about prostate cancer.  
What is a PROSTAGRAM?
A PROSTAGRAM is a simple, non-invasive MRI scan which lasts around 10 minutes. It is a simplified version of a 30-minute detailed MRI scan which has been recently recommended by the National Institute for Health and Care Excellence (NICE) as the first-line test for men referred to hospital with a suspicion of prostate cancer.
A PROSTAGRAM has several advantages compared to PSA
A clearer picture of prostate cancer
A PROSTAGRAM provides highly detailed images of the prostate and identifies suspicious areas within the prostate. Initial research suggests it is more accurate for detecting dangerous prostate cancer than the traditional PSA blood test. Suspicious areas can be targeted with sophisticated MRI-guided targeted biopsy techniques.  When an MRI is used to guide a doctor during a biopsy, the accuracy rises from 50% to close to 90%.
Making prostate cancer visible
Once doctors can see any cancer in the prostate, it can be treated using minimally invasive techniques which kills cancer cells without destroying healthy tissue. These treatments are similar to a lumpectomy in breast cancer which removes only the tumour and a small rim of normal tissue. This minimally invasive treatment is less likely to cause side effects such as incontinence and erectile dysfunction.
Safe
A PROSTAGRAM does not use radiation; it uses magnetism to produce a detailed picture of the prostate.
Non-invasive
The need for rectal examination has been identified as a key barrier within certain high risk-populations such as Afro-Caribbean men who are at 2 times increased risk of dying from prostate cancer. PROSTAGRAM is a non-invasive test which avoids the need for rectal examination. Our pilot study has suggested that a non-invasive test will encourage more Afro-Caribbean men to attend for prostate cancer screening.
Developed by experts, for patients
PROSTAGRAM has been developed by a team of dedicated researchers with a wealth of experience in prostate cancer diagnostics. There are other new tests which are being developed for prostate cancer in the private sector but often cost more than a PROSTAGRAM. In contrast to other new tests, the researchers who have developed PROSTAGRAM have no commercial or financial interests in the technology. Our mission is simply to develop a safe, effective and non-invasive test which can be offered to all men for prostate cancer.
Who are the research team?
Imperial Prostate is a team of researchers developing new ways to diagnose and treat prostate cancer. Our mission is to save lives and improve outcomes of men affected by prostate cancer.
The team is led by Professor Hashim Ahmed who is a Chair of Urology & Consultant Urological Surgeon at Imperial College Healthcare NHS Trust. He is an internationally renowned researcher in prostate cancer and pioneered the field of prostate MRI. His previous research has established new paradigms in prostate cancer and he has been supported with funding from many charities including the Prostate Cancer UK, the Medical Research Council (UK) and the Wellcome Trust.
Dr David Eldred-Evans is a Royal College of Surgeons research fellow and academic urologist. He developed PROSTAGRAM while completing a PhD in prostate cancer screening and set up the first clinical trial. He is supported by charities including the British Medical Association, the Urology Foundation and the Royal College of Surgeons of England. Prior to starting PROSTAGRAM, he was funded with a research fellowship from Imperial Health Charity and worked on the award-winning Rapid Access to Prostate Imaging and Diagnosis Pathway.
The pilot study
PROSTAGRAM has been successfully piloted in a study of over 400 men across the UK completed in 2019. In the pilot we were able to compare different ways of scanning the prostate, optimise each technique and find the best approach. There was a lot of public interest in the study and it was completed 12 months ahead schedule. We have designed a range of effective recruitment strategies which allowed us to communicate the study to large number of men.
We received endorsements from celebrities such as Stephen Fry and built links with local community networks. This allowed us to recruit a high proportion of Afro-Caribbean men who have previously been hard-to-reach and underrepresented in prostate cancer research despite being a higher risk of prostate cancer.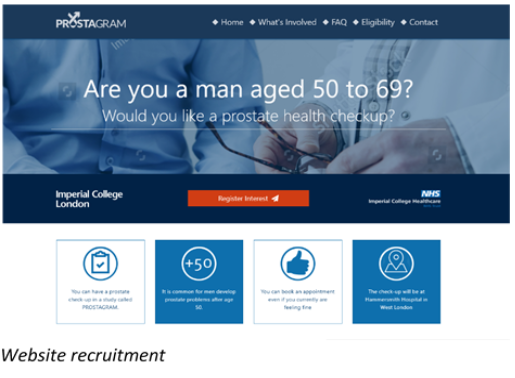 Example case:
A 60-year-old retired engineer. He had no waterworks symptoms or family history of prostate cancer. The PROSTAGRAM showed an area of suspicion on the left side of the prostate. The PSA test was normal (≤3ng/ml)
A biopsy of the area found an intermediate risk prostate cancer. As this was identified early, it could be treated with minimally invasive high-intensity focused ultrasound (HIFU).

The initial results of the pilot study justify rolling out PROSTAGRAM across the country. Statistical modelling from the results of the pilot indicate that a national study of 4000 men is required to impact UK National Screening policy.
Another key ambition of the trial is to ensure that all men can easily access a PROSTAGRAM. We are proposing to use mobile scanning trucks so that on-the-spot scans can be available locally. The trucks will be conveniently located in high footfall areas such as supermarkets, football stadiums and shopping centres. This strategy has been successful in lung cancer screening and can encourage interest from hard-to-reach groups including Afro-Caribbean communities at higher risk of prostate cancer.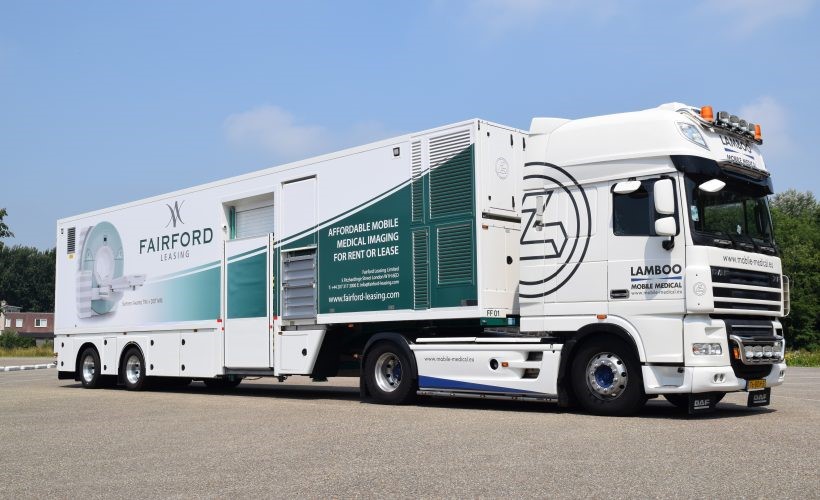 The trial is designed to allow an accurate comparison of PSA and PROSTAGRAM in a one-stop prostate health-check. Each man will have a PSA test and a PROSTAGRAM on the same day. If either test is positive a prostate biopsy will be performed. If both tests are negative, men can be reassured that the chances of developing dangerous prostate cancer over the next 10 years is very low.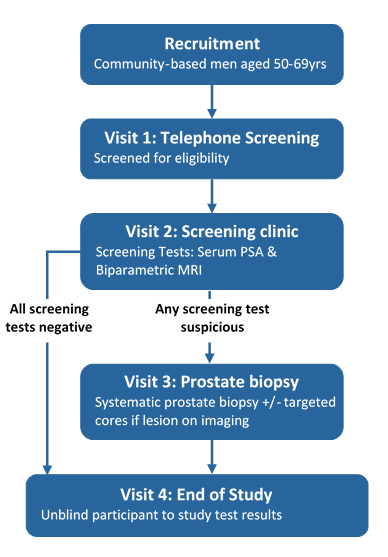 The pilot study has allowed us to develop a robust strategy to deliver the PROSTAGRAM on a large scale but cost-effective way. We propose 32 one-week deployment of a mobile MRI scanner in the local area of major populated area of the UK and the prior recruitment, consenting and scheduling of 140 men.
Scheduled Number of Deployments of PROSTAGRAM Scanner
Year 1
1 Deployment
140 Total Patients Recruited
Year 2
4 Deployments
700 Total Patients Recruited
Year 3
6 Deployments
1540 Total Patients Recruited
Year 4
8 Deployments
2660 Total Patients Recruited
Year 5
11 Deployments
4200 Total Patients Recruited
The Imperial Prostate Foundation has launched a £2.5 million fund raising campaign to complete the PROSTAGRAM trial. The campaign has already received £553,000 to fund the pilot study and we are now raising funds for the main trial. We have received generous support from high-profile charities including the Wellcome Trust, the British Medical Association, The Urology Foundation and the Royal College of Surgeons of England.
Total as of June 2020 = £553,000
How your support helps us …….
£250 – will pay for 1 man to have both a PSA test and a PROSTAGRAM
£1,000 – will pay for 4 men to have a PSA test and a PROSTAGRAM
£4,000 – will hire an MRI for a day to scan 20 men
£30,000 – will hire an MRI for a week to scan 100 men
£100,000 – will hire an MRI for a month to scan 400 men
£2 million – will enable us to purchase an MRI scanner for the whole study

Prostate matters is a not for profit organisation that is committed to providing free expert advice about prostate issues from leading Clinical  Authorities
Copyright Disclaimer: We try to acknowledge copyright as appropriate. If we have used something without acknowledging copyright, this is inadvertent. Please let us know by emailing info@prostatematters.co.uk