Determine suitable BPH treatment options
Overview by
Professor Richard Hindley
Consultant Urological Surgeon
Hampshire Hospitals NHS Foundation Trust
Chair of the Get It Right First Time (GIRFT)
BPH Academy
National Clinical Improvement Program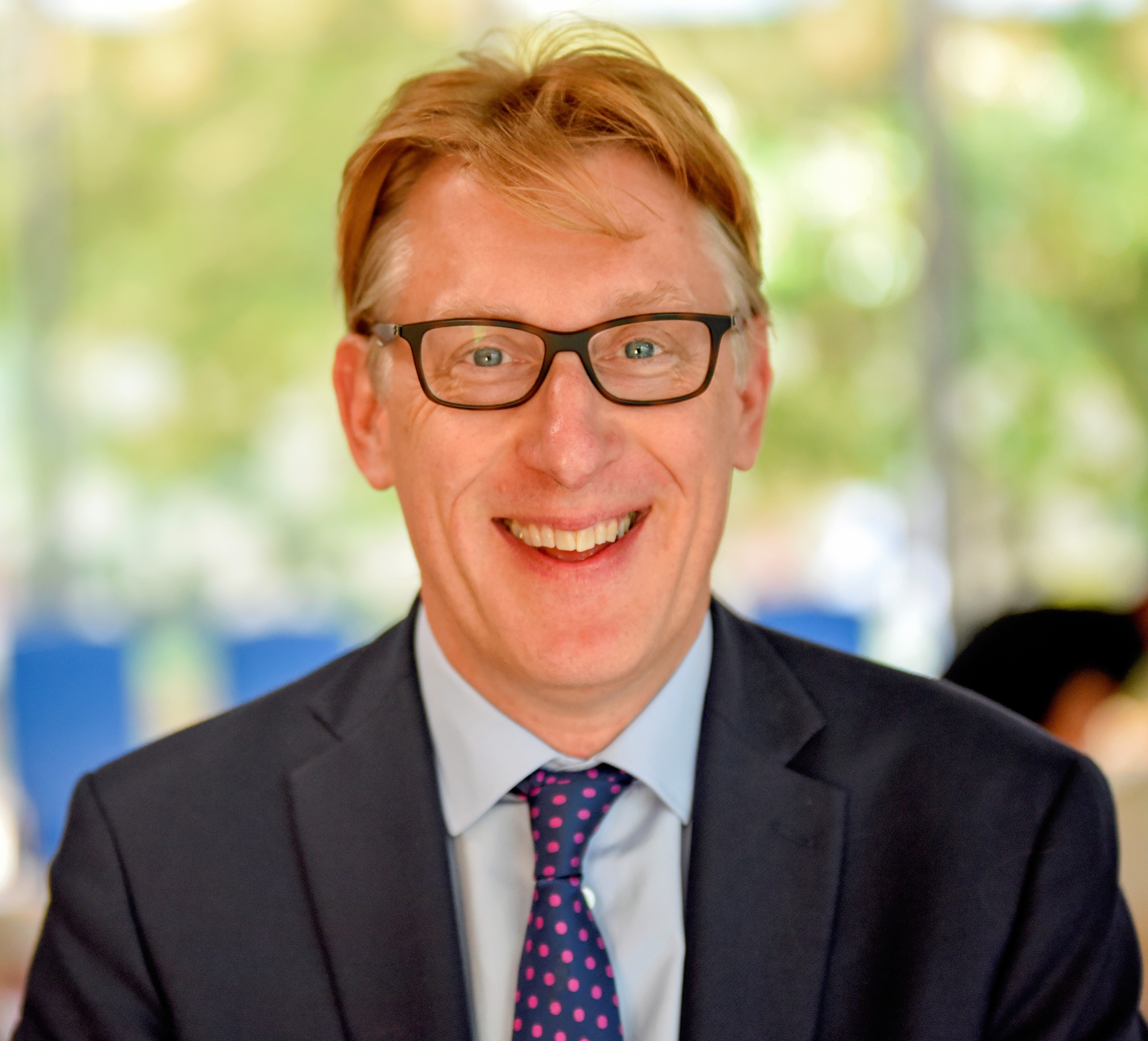 Minimally Invasive treatments – which one may be appropriate for you?
(Robotic and Open prostatectomy are included for completeness)
*We recommend you read the BPH and Information Collection pages in the first instance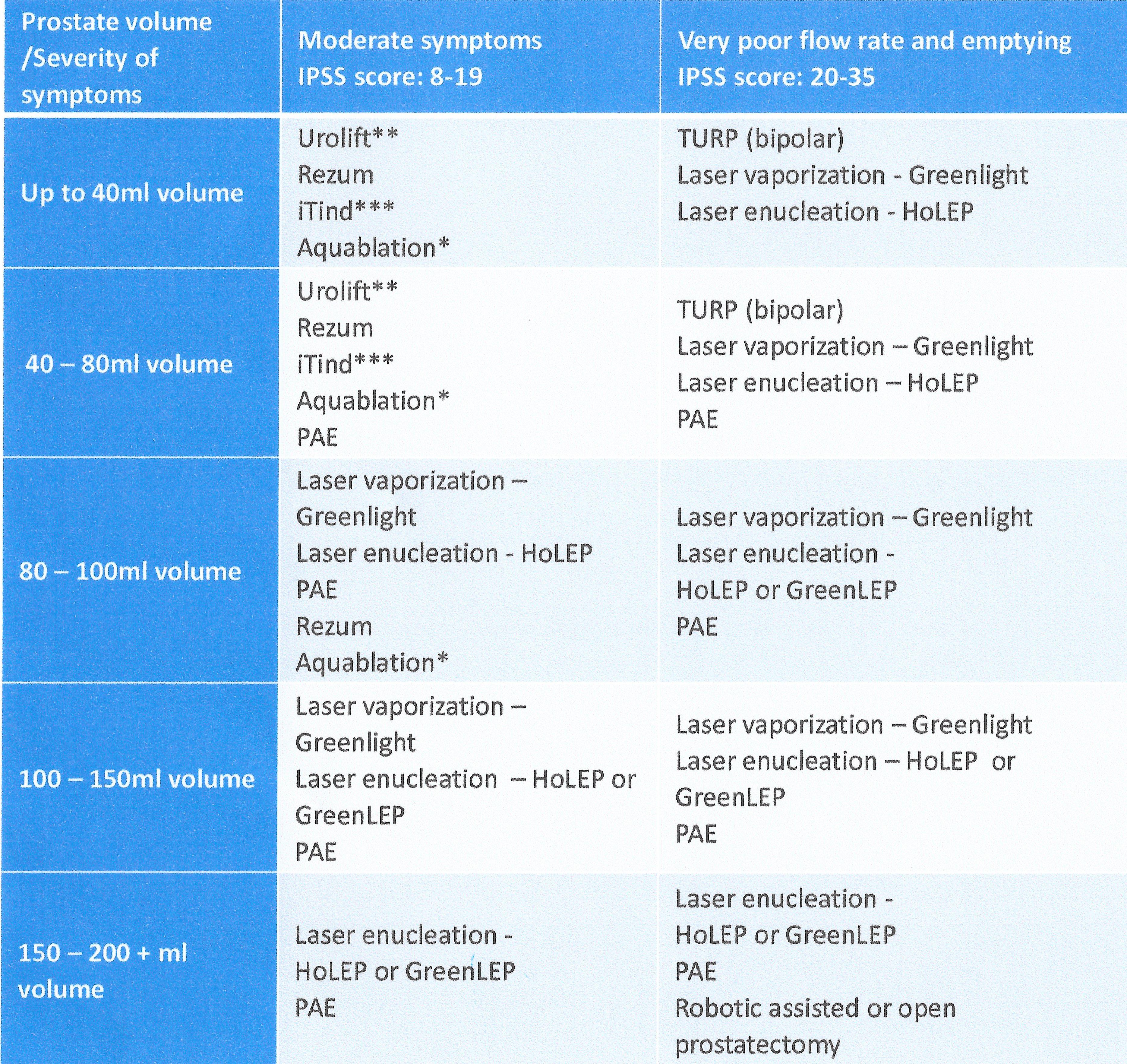 The chart gives a guide to the treatments that are suitable depending on the prostate volume and the severity of the symptoms.
For mild symptoms (IPSS symptom score 7 or less), then lifestyle changes, pelvic floor exercises and bladder training are the recommended treatment. Should improvements not be forthcoming, then treatment with medication is usually the next option. However some patients taking medication experience side effects, for example, headaches, dizziness as well as disturbing changes in sexual function including dry ejaculation and erectile dysfunction.  (See the treatment of BPH -Medication page).
Please note:
*Aquablation is not suitable for men with urinary retention
** Urolift is not ideal if the middle (median) lobe is involved unless performed by an experienced expert surgeon, when outcomes mirror that of Rezum.
*** iTind is not suitable for men with an obstructive median lobe or previous prostate surgery but is suitable for prostates up to 60cc in volume
There are then a set of questions that need to be answered to narrow down the best options.
Is Fertility Important?
(Avoidance of dry or retrograde ejaculation where semen goes into the bladder rather than being ejected out of the penis.)
Incidence of dry or retrograde (backwards) ejaculation:
<1% Urolift
>0% with iTind and PAE
5% with Rezum
7% with Aquablation
45% with GreenLEP and Greenlight laser
45%+ with TURP
75%+ with Open Prostatectomy and HoLEP
So for moderate symptoms and a prostate volume of less than 100ml, REZUM and Urolift are the best treatment options.
Is Erectile Function Important?
With PAE, 60% of patients report an improvement in erectile function.
Incidence of erectile dysfunction with other treatments is as follows:
0% with Urolift and iTind
1% with REZUM and Aquablation
1-2% with Greenlight laser, GreenLEP and HoLEP
5 – 10% with TURP
65%+ with Open Prostatectomy, 40% with robotic surgery with nerve sparing
So for moderate symptoms and a prostate volume of less than 100ml, RezUM and Urolift are the best treatment options. For larger prostates Greenlight, or HoLEP for very large prostates are the low risk options. For the elderly or frail  with potential risks from anaesthesia, PAE is a good option as it is very low risk as well as being a good treatment for moderately large prostates.
The other factor you may want to consider are recurrence rates for BPH symptoms.
They are as follows:
10% recurrence after 10 years for Greenlight laser, HoLEP, GreenLEP and TURP
5-10% recurrence after 3 years for REZUM
12.5% recurrence after 5 years for Urolift
20% recurrence after 1 year for PAE
<5% recurrance at 2 years for Aquablation but will probably mirror TURP and Greenlight      laser at 10 years

Prostate matters is a not for profit organisation that is committed to providing free expert advice about prostate issues from leading Clinical  Authorities
Copyright Disclaimer: We try to acknowledge copyright as appropriate. If we have used something without acknowledging copyright, this is inadvertent. Please let us know by emailing info@prostatematters.co.uk