Prostate matters is a not for profit organisation committed to providing free information about prostate issues from leading Clinical Authorities
Where to access Proton Beam Therapy (PBT)
Where to get Proton Beam Therapy (PBT) for Prostate cancer currently means going privately in the UK.
There will be only 2 NHS centres providing high energy PBT in the UK, The Christie NHS Foundation Trust in Manchester, and University College Hospital NHS Trust (UCLH) in London.
The Christie NHS proton beam therapy centre opened in Autumn 2018, and the first patient was treated in December 2018.
The second NHS centre is currently being built for University College London Hospitals with treatment due to begin in summer 2020. When complete the two centres will each treat up to 750 patients every year.
PBT is not currently available on the NHS for the Treatment of prostate cancer as it is not perceived as delivering  better outcomes than Image Modulated Radiotherapy IMRT, but is far more expensive.
However, there are Proton Beam  systems at The Ruthford Cancer Centres in Bedlington near Newcastle, Newport in Wales, Thames Valley (Reading) and shortly near Liverpool, which offer proton beam treatment to prostate cancer for private patients (insured or self pay). The service may be offered to NHS patients in the future. The cost of treatment for self pay patients is between £27,000 and £40,000 depending on how many fractions (treatment sessions) you require.
Click the button below to contact the centres.
The other option is to contact Dr Thomas Bozek, based in London, who refers patients to the high energy Proton Beam system located in Prague in Czech Republic. Total cost of treatment and living expenses is estimated at £35,000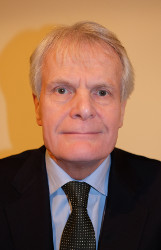 Dr Thomas Bozek
Consultant Clinical Oncologist
If the situation changes in terms of where to get Proton Beam Therapy (PBT) for prostate cancer, this page will be updated.

Prostate matters is a not for profit organisation that is committed to providing free expert advice about prostate issues from leading Clinical  Authorities
Copyright Disclaimer: We try to acknowledge copyright as appropriate. If we have used something without acknowledging copyright, this is inadvertent. Please let us know by emailing info@prostatematters.co.uk