Prostate matters is a not for profit organisation committed to providing free information about prostate issues from leading Clinical Authorities
Advice on early screening for men of African genetic heritage.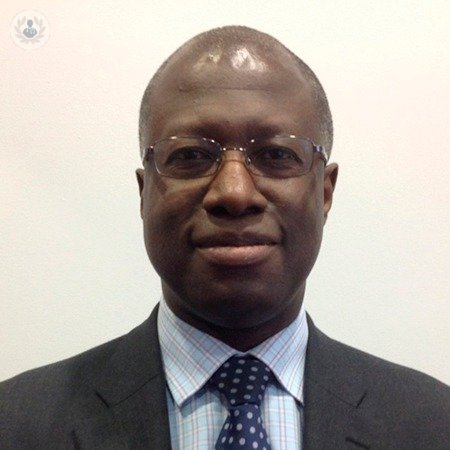 Overview by Professor Frank Chinegwundoh MBE
Consultant Urological Surgeon
St Bartholomew's Hospital
Barts NHS Trust
Genetics associated with prostate cancer play a more important role than in many types of cancer.
Advice on early screening for men of African genetic heritage is particularly important. Men with West African or South African genetic ancestry have a greater risk of getting prostate cancer, and a more aggressive type, than Caucasian men, and are twice as likely to die from the disease. This group of men also tend to develop prostate cancer at an earlier age.
For this reason, if no other, it is worth men in this group and their families, becoming well informed about prostate cancer diagnosis and treatments.
 The topic can be complex so it is recommended studying  the pages on diagnosis on this site including my other page on the topic. There you will find many useful links to other information resources. Involve your GP and others in your community if you can to help.
Prostate cancer that starts at age 40 and spreads by age 50 is unlike one that shows up first at age 70 which is rarely lethal. Early detection is of course important for everyone with prostate cancer but it is especially important for this group.
Screening for prostate cancer can save more black lives than it can for those at lower risk. The standard test is a PSA blood test. Prostate Specific Antigen (PSA) is produced by the prostate and if levels are higher than normal this may indicate prostate cancer, it certainly means you must undergo further investigation. MRI scans and transperineal biopsy should be used to confirm whether prostate cancer is present and how aggressive it is.
For men in this group it is highly recommended:
To start PSA testing at age 45
To start PSA testing at age 40 for men with one or more close relatives who had prostate cancer when they were younger than age 55
Active Surveillance, which is monitoring the disease with regular MRI and biopsy if necessary, is an option for this group as long as it was preceded by a quality MRI and report plus an accurate transperineal biopsy. For those in whom active surveillance is inappropriate, there are the radical therapies of surgery or radiotherapy.
What You Can Do
Lifestyle changes can help lower the risk of prostate cancer. Exercise, losing weight, cutting down on red meat and alcohol and stopping smoking can all help. The link under my profile gives more information on diet and lifestyle:
Push your GP for annual prostate cancer screening tests
Make yourself aware of the support that is available for the community.
For example:
The Errol McKellar foundation and its mobile PSA testing station initiative.
The Cancer Black Care charity in London.

Learn about your treatment options. They can all be found on this site.
Enrol in prostate clinical trials such as the ReIMAGINE trial or the Prostagram 2 trial when it commences. The benefit being you will be closely monitored. There is access to all trials in the UK in the NIHR link.

Prostate matters is a not for profit organisation that is committed to providing free expert advice about prostate issues from leading Clinical  Authorities
Copyright Disclaimer: We try to acknowledge copyright as appropriate. If we have used something without acknowledging copyright, this is inadvertent. Please let us know by emailing info@prostatematters.co.uk