Prostate matters is a not for profit organisation committed to providing free information about prostate issues from leading Clinical Authorities
Overview of the diagnostic pathway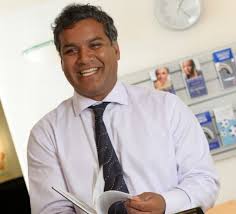 Professor Raj Persad
Consultant Urological Surgeon
Southmead Hospital
North Bristol NHS Trust
and
HCA Harley Street Clinic and Diagnostics Centre
This page provides an overview of the diagnostic pathway for prostate cancer which is illustrated below.
This is high level, but captures the process whether a particular hospital operates the process over 28, 21 or 14 days and maybe up to 4 hospital visits. In my practice I use the RAPID protocol, where the whole process can be completed in around 10 days. Patients I see will be triaged on the phone, have an MRI in the morning when I see them once the MRI has been reported, and when possible, I will perform the biopsy the same afternoon.
There are links to Caroline Moore's page on the site describing the New Pathway, and Hashim Ahmed's page on this site describing the RAPID protocol, The links can be found under my profile button. Further, there is a link to the NHS booklet on the diagnostic pathway which you are free to download and print.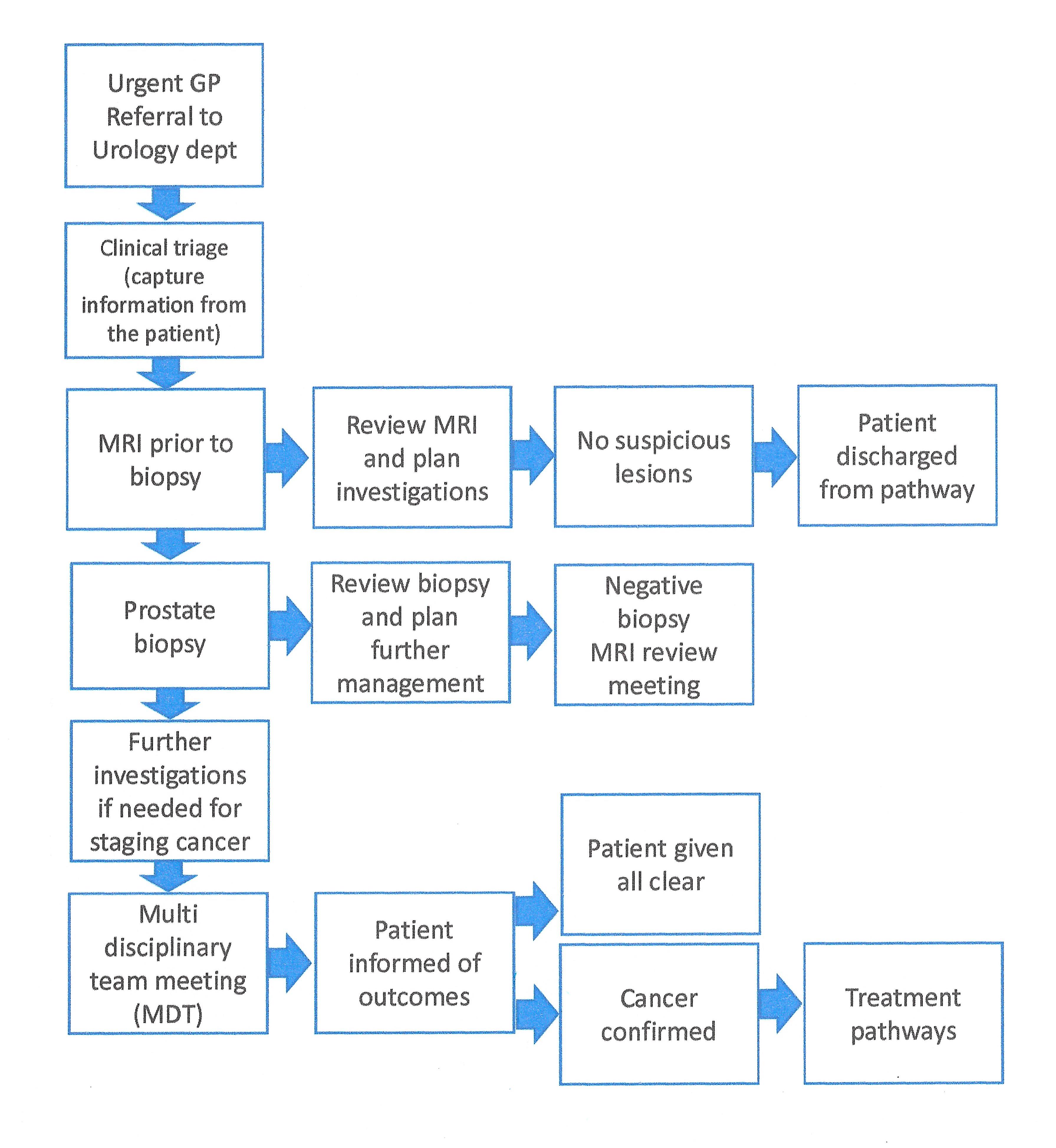 Most the boxes are self evident in what they mean, but some need explanation and there are important observations I would like to make.
Firstly, the process is dependant on a good quality MRI of the prostate that is then reported by a radiologist experienced in reporting images of the prostate. This is not always the case and can result in incorrect conclusions being drawn. This can lead to cancer lesions being missed and biopsy samples being taken from the wrong part of the prostate. At that point the whole process can fall apart.
The following link to Clare Allen's page on this site illustrates what high quality MR scans look like as well as gold standard reports. It is worth remembering that at any stage of the process you are entitled to ask for a second opinion or go to a private physician. The link at the bottom of the page tells you how. In this regard, it is worth noting that Clare Allen operates a rereporting service which you can also access via the gold standard link below.
'Further investigations if needed for cancer staging', that is determining the possible severity of the cancer, can include such tests as bone scans or PET-CT. See the page on staging for more information on precise meaning.
MDT stands for Multi Disciplinary Team meeting. This is a meeting between among others, your Urological Surgeon, the Radiologist, and an Oncologist, to discuss your results and draw conclusions about your case. Treatment options may be offered to you following this meeting. Once again you are perfectly entitled to ask for a second opinion and explore other options such as focal therapy on the NHS for example, or be referred privately for Proton Beam Therapy as another example
Be aware, not all Urological Consultants will make it clear to you that other treatments exist and may be available to you
Finally it is always worth exploring what new treatments that may be the subject of trials that you may be able to join.

Prostate matters is a not for profit organisation that is committed to providing free expert advice about prostate issues from leading Clinical  Authorities
Copyright Disclaimer: We try to acknowledge copyright as appropriate. If we have used something without acknowledging copyright, this is inadvertent. Please let us know by emailing info@prostatematters.co.uk